What Is Tattoo Removal?
Skinnovation Laser Clinic in Sydney are specialists in laser tattoo removal. If you wish to erase an unwanted tattoo the team at Skinnovation can help you. We are also able to remove tattoos that have been previously treated or unsuccessfully attempted to be removed.  The exception to this is iron based ink, which we are unable to remove. To discuss if we are the right team to help remove your tattoo contact us to schedule a free consultation.

About The Procedure
The tattoo removal procedure is performed with a medical-grade laser called MedLite C6 Q-Switched Laser. The laser will perform well no matter the size or the colour of the tattoo you want to remove. This type of laser provides a flat-top beam profile that produces consistent results simply because it minimises epidermal injury thanks to the homogenous beam delivery. 
We have been operating with this specific type of laser since the very first tattoo removal we performed, hence we are able to offer an experienced service. This kind of laser targets ink of any colour without damaging the surrounding tissue, which is why it can be used in other fine cosmetic procedures, too. 
To minimise discomfort during the treatment, we use Zimmer Cooling System that can reduce discomfort during your laser tattoo removal session. Ice Packs can be used as well, and we will use whichever option you prefer. It usually takes a minimum of six sessions to achieve an optimal result, however the exact number of treatments depends on several factors. Some of them are the type of tattoo (if it is coloured or just outlined), the area of the body the tattoo is on, and your body's ability to detoxify the ink particles.

The Benefits Of Tattoo Removal
The benefits of laser tattoo removal are numerous, and the first one is the fact that this is a non-surgical, non-invasive procedure that gives you desired results in the long run. As the laser is designed to target the ink and leave your healthy skin cells alone, the risk of scarring is extremely low – especially when compared to other methods that are based on 'sanding' the skin. It is also good to know that laser tattoo removal is one of the safest ways to remove tattoos, and it is because the risk of infection is minimal. 
In terms of side effects, there aren't really many of them. The most common ones are hypopigmentation, where the treated skin is paler than the surrounding skin, and hyperpigmentation, where the treated skin is darker than the surrounding skin. These can occur immediately after receiving treatment, which is why you will be asked to apply a topical cream or ointment after every session. Apart from that, you will have to wear a bandage or a patch to protect the treated site, as well as to cover it with sunblock when out in the sun.  

Who Is The Right Candidate For Tattoo Removal?
As each tattoo is unique, removal techniques need to be tailored to suit every client's individual needs. The first step you should take is to schedule a free consultation in order for us to examine the tattoo you want to remove. This is an essential step because we don't remove tattoos done with iron-based ink. This type of ink doesn't respond well to laser treatments – on the contrary, it can make them even worse. If you want to have the best tattoo removal experience, just visit us and we will take a look at your tattoo and tell you if we can remove it. 
Clients who have tattoos that have been treated previously are good candidates for laser tattoo removal. This is particularly true if you have a tattoo that has been unsuccessfully treated but hasn't resulted in excessive scarring. This treatment has been considered as one of the greatest advancements in tattoo removal for a good reason, so contact us now and book your free consultation right away!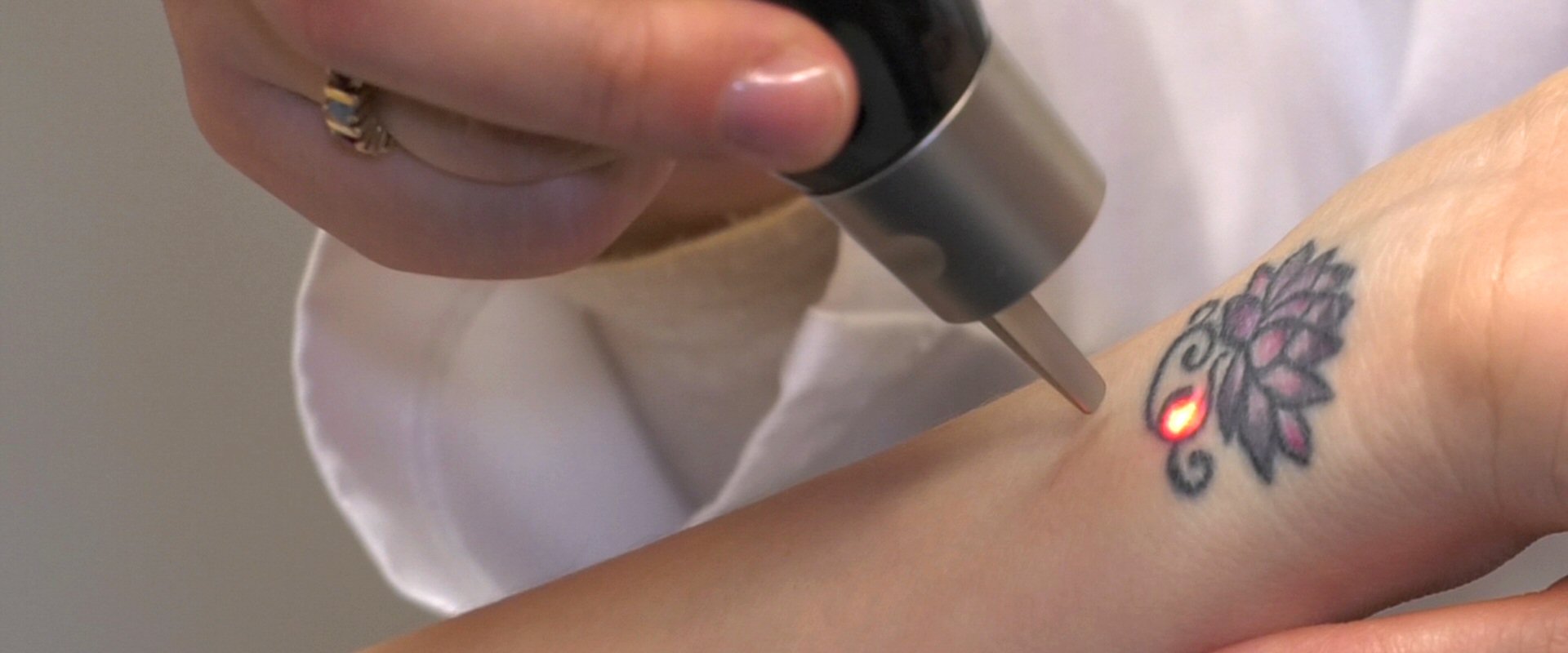 Recovery Period And Results
Recovery time after a laser tattoo removal treatment is performed is individual, which means that it will take a different amount of time for different people to recover after it. There are some tips on how to speed up the process of recovery, and the first one is prepping your immune system by eating nutritious foods. Citrus fruits are good choice as they are rich in vitamin C, and ginger has anti-inflammatory properties you should take advantage of while recovering from laser tattoo removal.
Proper cleaning is also vital as it will prevent the infection, so make sure to clean the area with cool water and pat it dry every single day. Rubbing the area should be avoided as it can irritate your tender skin even more. A vitamin E cream can soothe your treated skin and prevent itching, so we advise to apply it if you want to stop yourself from scratching. Taking a break from smoking can be quite useful while you are recovering, as smoking constricts the blood vessels that assist in the repair process.
Book Your Tattoo Removal Appointment At Skinnovation Laser Clinic
If you have a tattoo you wish to remove book your tattoo removal appointment at Skinnovation Laser Clinic in Sydney. Get in touch today and we will be happy to arrange a free consultation and discuss the details of the procedure. 
Our clinic is located in the heart of the Eastern Suburbs, in Pacific Square Shopping Centre, and our doors are open for everyone who wants to make an important change and erase some ink from their skin. Contact us by phone or email, or come in to our clinic to take the first step in your tattoo removal process