Eyebrow Feathering (Cosmetic Tattooing)
Cosmetic Tattooing (also known as Permanent and Semi-Permanent Makeup) is a technique that involves depositing pigment into the skin in order to enhance the natural beauty of the eyebrows.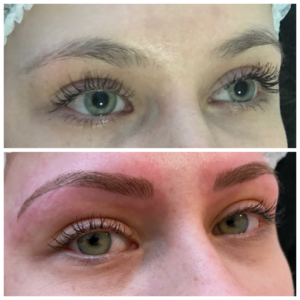 The eyebrow tattooing, also known as feather eyebrow tattooing or feathering, uses a hair stroke technique where individual hairs are recreated along the brow line for a natural look.
The first step of this treatment is a Free Consultation, where we discuss your needs and evaluate your face shape, thoroughly explain how the treatment works and give you pre and post instructions.
After that, 2 treatments are required: In the first one we do the preparation of the area, which includes the perfect eyebrow design and the choice of pigment colour (which is always the closest to your natural eyebrow colour). A topical numbing cream is then applied to the skin for extra comfort, followed by the feathering process. This technique involves drawing each individual hair stroke onto the client's eyebrows until the desired fullness and shape is achieved
The follow up session is where we finalize the design of the eyebrows in order to achieve a natural look.
The pigment remains in the skin indefinitely, although the colour may fade due to aging of the tattoo, health and environmental factors, eventually retouching may be required.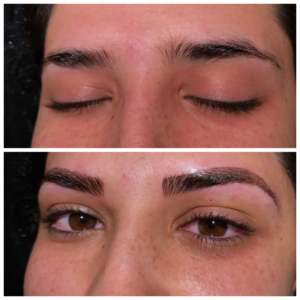 Request an appointment