Dermapen 4™ (Microneedling/ Skin Needling)
Microneedling/ Skin Needling is a non- invasive, clinical treatment that uses microscopic needles to treat a number of skin conditions ranging from ageing and pigmentation to acne, scarring and stretch marks. Tiny puncture channels are created within the skin to encourage an organic renewal and regenerating response.
At Skinnovation Laser Clinic we use the latest automated technology on the market for Skin Needling: the Dermapen 4™.
Dermapen 4™ glides over the skin creating millions of fine fractional channels up to 104% faster than other microneedling devices. These channels can carry up to 80% more topical nutrients deeper into the skin. In turn, our body's natural response triggers a natural process of repair. The result is an increased production of collagen and elastin, resurfacing, retexturizing and overall skin renewal anywhere on the body, from hard to reach areas such as around the eyes, eyelids, neck, lips, nose or larger areas of neck and décolletage.
Dermapen 4™ is the most advanced microneedling device available. Dermapen 4™ treatments are faster and produce optimal results.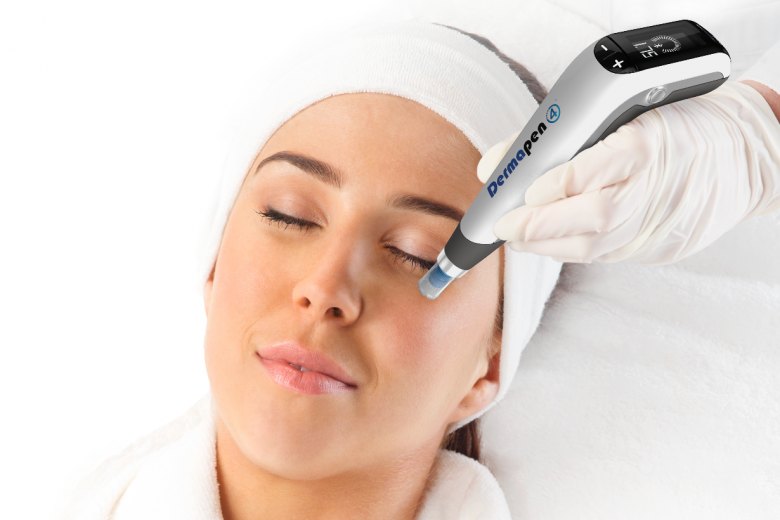 BENEFITS:
Minimum downtime
Skin rejuvenation (Collagen Induction Therapy)
Topical Product infusion
Ageing/ wrinkles
Pigmentation/ UV Damage
Rosacea
Capillaries/ Angiogenesis
Acne / Pimples/ Blackheads
Scarring
Enlarged Pores
Stretch Marks
Request an Appointment