Fat Freezing
Cryolipolysis; commonly known as Fat Freezing; is an unique non-invasive treatment used to reduce specific areas of fat. It is a proven method of fat reduction which has been subject to multiple scientific studies and clinical trials and has been proven to reduce up to 30% of fat cells in each session of the treated area.
How it works
Studies have shown that fat cells are more sensitive to cold temperature than the surrounding body cells and tissues. Fat freezing works by using a special applicator tool which simultaneously suctions and cools (freezes) the fat cells (adipocytes) in the target areas being treated. Once the cells are frozen, they crystalize and start going through a process called controlled apoptosis (cell death). The dead fat cells then are eliminated from the body naturally.
We offer to every client a FREE initial consultation where we can further discuss a treatment plan and make sure you are a suitable candidate for the fat freezing treatment.
Request an Appointment
CRYOLIPOLYSIS VS SURGICAL LIPOSUCTION
Unlike Surgical Liposuction; which is an invasive procedure with surgical risks, prolonged downtime, post procedure pain and possible scarring; Cryolipolysis has little to no downtime and virtually no pain, being a safer whilst very efficient option.
At Skinnovation Laser Clinic we use the Latest 360° Surrounding Cooling Technology for faster more effective results. Our technology is TGA approved (approved for all skin types) and can treat up to 4 areas safely at once!
BENEFITS FROM FAT FREEZING (CRYOLIPOLYSIS)
Eliminates stubborn fat and reshapes problem areas, such as stubborn fat pockets that diet and exercise simply fail to remove
Up to 30% fat loss (scientifically proven) with each treatment, in the treated areas
Visible results
No downtime
Machine time takes between 40- 45 mins
Comfortable – virtually pain free
You can treat up to 4 areas at once
Permanent results if diet and exercise regime is maintained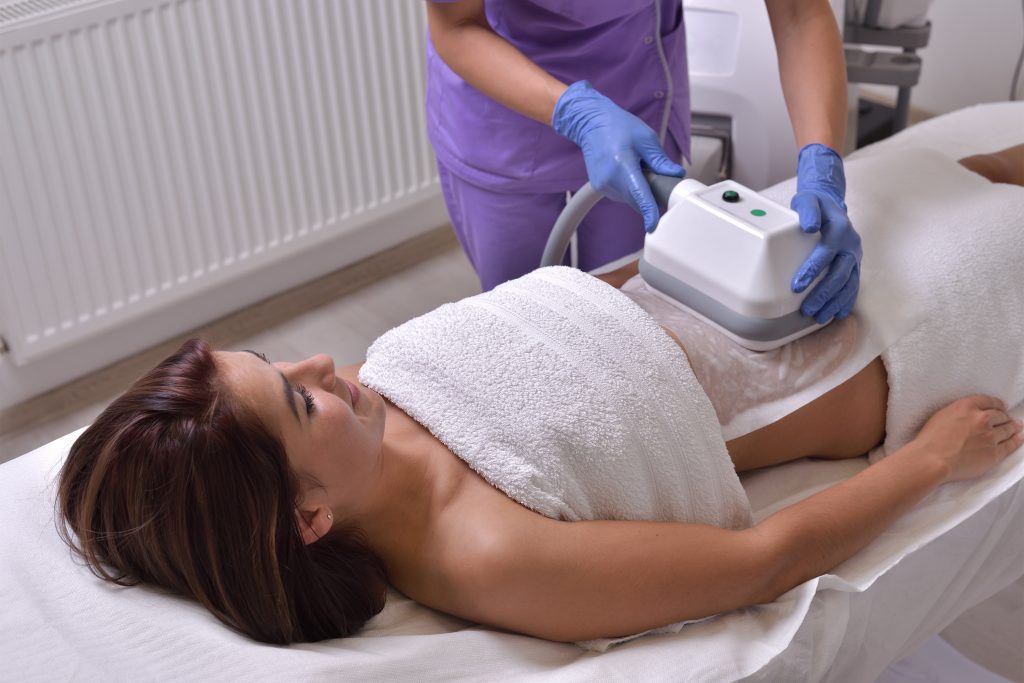 FAQ
Am I a suitable candidate for Fat Freezing (cryolipolysis)?

The ideal candidate for Fat freezing is someone who is mildly above their ideal weight, and has localized pockets of fat in certain body areas, which won't respond to changes in diet and exercise. It is not a weight loss treatment and does not replace a healthy diet and frequent exercising regime. It does not treat obesity.
What body areas can be treated?

We can treat the following areas: upper and lower stomach, upper arms, love handles (hips), inner and outer thighs, banana rolls (under buttocks), bra rolls (back fat), submental (double chin) and chest in males.
How long does each session take?

Each body area can be treated in around 45-60 minutes. Before we start your treatment, we will take photos and measure the area. That is so you can compare your results. Then, we will set up the treatment and you can relax and read a magazine, check your emails or catch up on social media while we do the work for you.
How long does it take to see results?

Every person is unique and has different needs and goals, but clinical studies show that results will be seen around 6-8 weeks and final results will be shown 3 months post procedure. Some people however, will be able to see results in as little as 4 weeks.
How many sessions are required per area and how often can I treatment?

Some clients are happy with only 1 session per area. However, between 1-3 sessions are normally required per body area. Treatment can be done 8-12 weeks apart. We offer Free Consultation and Follow Up so we can assess the area being treated and then work with you to better guide you on how many sessions will be required..
What will I experience during the treatment?

In order to protect your skin from cold temperature, an anti-freeze membrane will be placed on the area treated. Next, the fat is drawn into a suction cup and the machine will start the targeted cooling process. You will feel a light cooling and suction sensation during the treatment. Within minutes, the area will go numb. It is a safe and non-invasive treatment with no downtime, so you can walk in and out. Clients even do it on their lunch breaks!
Are the results permanent?

Yes they are permanent. As long as you maintain your weight and healthy diet and exercise routine, your long term results should remain stable.
Is Cryolipolysis clinically proven and safe?

Yes. There are multiple case and scientific studies in regards to Cryolipolysis available online. At Skinnovation Laser Clinic this treatment is performed by trained therapists that specialize in aesthetic, non- surgical and non- invasive skin and body treatments. We use a medical grade device which is registered on the ARTG as medical devices ARTG/TGA. The TGA is part of the Australian Government Department of Health and is responsible for regulating therapeutic goods.
Before and After